Emergency Electrical Repairs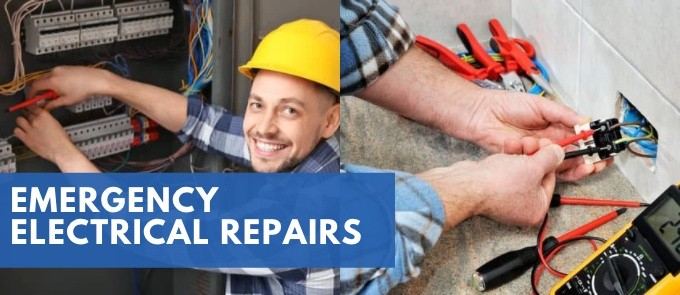 24-Hour Electrician Services for Electrical Emergencies
Did you know that electrical issues are responsible for about a third of all structure fires? Electrical dangers should not be taken lightly.
The first step is to figure out whether you require emergency help – even if you suspect danger, it's usually safer to contact a local emergency electrician. That's why our team is here to help 24/7.
Hiring a professional for your protection avoids the risk of electrical shock and fire, as well as code-compliant work. When you choose us, you get high-quality emergency services—we'll fix the problem and ensure there aren't any more hazards lurking.
Call (877) 978-2564 for qualified emergency electricians as soon as possible.
What is Considered an Electrical Emergency?
It's not always obvious that you have an emergency electrical problem rather than a routine issue that you may take care of. Many times, faulty wiring may result in a genuine emergency.
If you're not sure, give us a call, and we'll assist you in determining what's wrong. You are not alone. Some of the most common warning signals for an electrical problem are as follows:
Unidentified Burning Smell
Does the smell linger or come and go? Are your smoke detectors going off? Check your appliances, all of your outlets, and ducts to see where the problem is coming from. An unidentified smell might be a safety risk, particularly if you detect plastic burning.
A Buzzing or Humming Sound in Breaker Box
Do you hear an unusual noise when your breaker box is on? This includes lights flickering, dimming, or shutting off.
Overall, an occasional humming noise coming from your breaker box is expected as it delivers electricity. Any sign of electrical overload might indicate serious emergency problems in the circuits.
Circuit Breaker Keeps Tripping Repeatedly
There are a few reasons for a circuit breaker to keep tripping, including:
The circuit breaker box is going bad
A circuit overload the breaker box cannot accommodate
A ground fault is occurring, meaning a hot wire is touching the ground
An appliance or wire is short-circuiting, meaning the electrical flow has gone outside the intended circuit
Lights Continuously Flicker
If your lights flicker from time to time, it's most likely a minor issue with the lightbulb or a faulty switch. When it should be stable, Flickering is a sure sign of a more serious issue such as a circuit overload, excessive voltage, or loose connections. These are dangerous and should have an inspection immediately.
Do you need an emergency electrical repair? Call Us Today
Smoke Coming from an Outlet
Check your outlets for visible signs of damage, including scorch marks or anything that looks melted. If you see smoke coming from any part of the outlet, turn off the circuit breaker immediately.
Wiring problems, loose plug-in connections, and connecting too many gadgets to one outlet are all examples of issues that may cause outlets to smoke.
Fuses Keep Blowing Out
A fuse blowing out repeatedly might mean that your home's wiring system needs an update because it's notwithstanding the electrical load you're putting on it. If the fuse has recently been replaced, this could indicate a short-circuit or fire hazard somewhere in your home.
Just because you don't have emergency issues doesn't mean your wiring isn't old and worn down. We can inspect your home for needed updates before more serious damage occurs.
Emergency Electrical Repair Services We Provide
We handle emergency electrical repairs on a 24/7 basis. If you have a fire hazard, including overloaded circuits, frayed wires, and damaged plugs, you can also count on us. We'll come to your home right away and ensure that your wiring is safe for usage.
Faulty Interior and Exterior Wiring Repair
Circuit Breakers
Power Outages and Power Surges
Electrical Panels Repair
Generator Repair
Ceiling Fan Repair
Smoke Detector Repair
Electrical Switches & Outlet Repair
Lighting Repair
Fault Location and Repair
24-Hour Electrician Available for All Electrical Emergencies
If you have an electrical emergency that needs to be resolved quickly, don't wait another day. Call our 24-hour electrician team today! When it comes to your home or business electricity, there are many reasons for needing a professional's help.
Whether the issue is with wiring, switches, or outlets, we can provide specialized solutions and repair work at any time of the day.
Our licensed technicians will arrive promptly at your location after you call us so that they may get started right away fixing what's broken without delay.
Speak With our Electrical Professionals Today!
Frequently Asked Questions